Braid's Bar Menu
Braid's Bar - Please note this is a sample menu
Braid Breakfast
sausage, bacon, fried egg, tomato, mushroom, hash brown, baked beans (available until 10am)
Braid's Bar - Please note this is a sample menu
Braid Breakfast
sausage, bacon, fried egg, tomato, mushroom, hash brown, baked beans (available until 10am)
Cured Ham & Cheddar Cheese
Prawn & Avocado
homemade Marie Rose sauce
Tomato, Basil & Mozzarella Panini
Crab Sandwich
crab meat, lime, coriander and ginger dressing, salad, tomato
Tuna Mayonnaise & Cucumber
Soup of the day & a choice of sandwich
Additional Information
Sandwiches served from 11am
Fish & Chips
beer battered fillet of haddock, chunky chips or skin on fries, garden peas, tartare sauce
Scampi & Chips
wholetail scampi, chunky chips or skin on fries, garden peas, tartare sauce
Ham, Egg & Chips
Suffolk ham, Gate Farm eggs, chunky chips or skin on fries
Classic Caesar Salad
cos lettuce, Caesar dressing, garlic croutons, Parmesan, (add streaky bacon + £1)
Greek Salad
tomato, Feta, olives, cucumber, red onion, peppers
Crab Caesar Salad
cos lettuce, crab, red onion, celery, Caesar dressing, garlic croutons, parmesan
Vegetarian Macaroni & Cheese
broccoli, cauliflower, peas, tomato, mushrooms, rich mature cheddar, mozzarella, Grana Panado cheese sauce
Thorpeness Burger
6oz chargrilled beef burger, toasted brioche bun, smoked applewood cheddar cheese, chunky chips or skin on fries, gherkin, tomato, Stoke BBQ sauce
Grilled Sirloin Steak
roasted mushroom, vine cherry tomatoes, chunky chips or skin on fries
Vegan Burger (V)
red onion marmalade, lettuce, tomato, gherkin, vegan cheese, chunky chips or skin on fries
BBQ Chicken Burger
chunky chips or skin on fries
Roast of the Day
Please ask one of our Folk for meat option, served with gravy, Yorkshire pudding, seasonal vegetables & roasted potatoes
Roast of the Day and Dessert
Course 1 - Please ask one of our Folk for our meat option, served with gravy, Yorkshire pudding, seasonal vegetables & roasted potatoes
Course 2 - Chef's Sunny Thorpeness Mess
Beef Burger with Cheese
choose your sides of peas, salad or mixed vegetables, chips or new potatoes
Chicken Burger
choose your sides of peas, salad or mixed vegetables, chips or new potatoes
Fish Fingers
choose your sides of peas, salad or mixed vegetables, chips or new potatoes
Caesar Salad
available with or without chicken
Additional Information
Available for children up to the age of 12.
Braid's Bar Menu
Our Braid's Bar Menu is served from 8am through until 5pm.
Sunday Lunch served 12pm - 3pm
All our food is prepared in a kitchen where nuts, gluten and other food allergens are present. Our menu descriptions do not include all ingredients - if you have a food allergy, please let us know before ordering.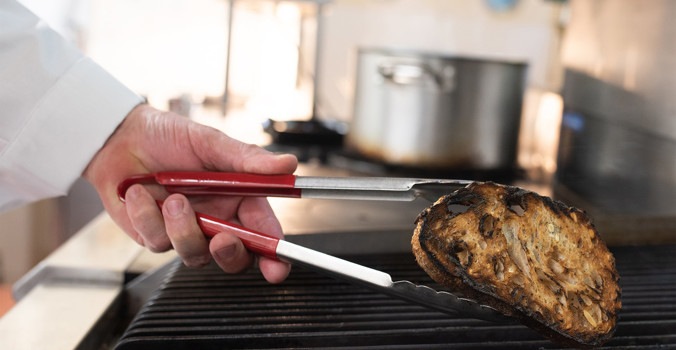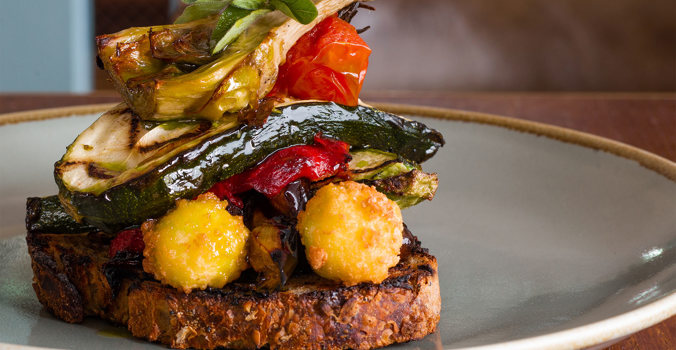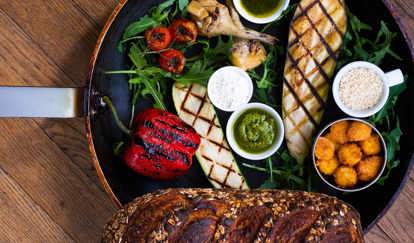 Aubergine, Courgette, Mozzarella Stack on a Toasted Bruschetta